Praxis Tech announces the launch of 'Abandoned Transaction Events,' a new feature that supports merchants to boost their conversion and retention rates by alerting them to interrupted transactions, enhancing their re-engagement strategies with customers who abandoned checkouts.
LIMASSOL, CYPRUS - Praxis Tech, a leading provider of payment orchestration technology, announces Abandoned Transaction Events, its newest strategic feature designed to boost merchant conversion and retention rates. This innovative solution enables merchants to strategically re-engage their users who experienced a failed transaction or who abandoned the checkout process.
From today, Praxis Tech's Abandoned Transaction Events feature offers existing clients the ability to be promptly alerted about instances of abandoned deposit or checkout pages. Equipped with this information, merchants can now proactively intervene and re-establish a connection with their users. This is fundamental for instances of declined transactions, dropped connections, or any other barriers that might inhibit a successful deposit or completed checkout. With this new feature, Praxis ensures that merchants have the tools to reconnect with customers and enhance retention and conversion.
Anton Komukhin, Head of Product at Praxis Tech, remarked,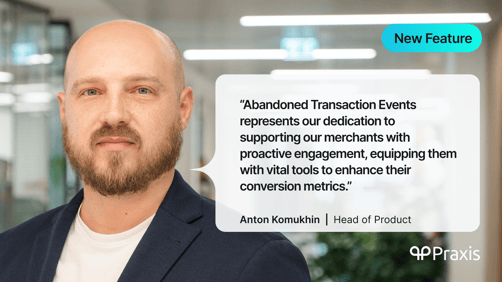 "Praxis continually seeks to deliver actionable solutions for the real-world challenges our clients face daily. Addressing the prevalent issue where up to 70% of online transactions get abandoned by users during the checkout phase, we've taken steps to counteract this conversion leakage. Abandoned Transaction Events represents our dedication to supporting our merchants with proactive engagement, equipping them with vital tools to enhance their conversion metrics."
Merchants can utilize the unique client data Praxis collected during the checkout process to retarget their clients whose checkout sessions have expired using their own preferred communication channels, be it SMS, push notification, or email. Paired with another of Praxis' innovative features which generates a direct payment link, merchants are able to share a URL or QR code with their clients, guiding them seamlessly back to the checkout process.
Guy Karsenti, Chief Technology Officer at Praxis Tech, also commented,
"As we enter Q4, the addition of Abandoned Transaction Events to our feature set reaffirms Praxis' position as an industry pioneer and leader. This is evident not only in our comprehensive solutions designed to support merchants in enhancing client retention and conversion but also in the pivotal role our Decline Recovery suite plays in increasing their number of approved transactions."
This latest feature builds on Praxis' focus on decline recovery features, which have undergone significant enhancements throughout the year. Features such as Background Dynamic Currency Conversion (BDCC) have already demonstrated their value, contributing to a 13 percent increase in approval rates for merchants. Additionally, the Smart Routing feature has been optimizing payment sequences and transaction pathways, and the Merchant Initiated Transactions (MIT) suite of one-click, recurring, and automatic top-up payments continues to enhance customer experiences and boost retention metrics.
Abandoned Transaction Events is integrated seamlessly into Praxis' Cashier platform, respecting all pre-set merchant criteria, including those related to country, currency, gateway, and smart routing rules. This means that merchant preferences, such as geolocation and preferred payment methods, remain consistent and unaffected. This new feature also aligns with Praxis' overarching objective to combat cart checkout abandonment - a challenge that plagues up to 70% of online transactions - which is not confined exclusively to the e-commerce sector.